Imagine the type of traction your business could get if your event clients agree to provide glowing video testimonials of your event and share them on their social media pages. Or imagine having a video booth at a wedding, where your guests can share their excitement about the new bride and groom's big day in an enduring format that's also ready to post to Instagram or Facebook. At Pic Station, we provide contemporary, easy-to-use video booth rentals that can help you to increase your online reach or promote a personal celebration in a captivating and engaging way.
What Our Video Booth Rental Service Includes
With our video booth rental services, you can record videos with high resolution and professional-level sound during your next corporate or private event. Our clients love that the kiosk is minimalist and sleek, so it's convenient to use no matter where they may be hosting their events.
Our booths use high-definition microphones and record video at a resolution of 1080p. As a result, you can rest assured that your guests will always sound and look their best in their videos. We can even give your videos the custom background of your choosing, or you can place a specific image or logo behind guests using our green screen.
Our video booth rentals also include:
A customizable user interface with question prompts and logos
LED video lighting
Prompt electronic delivery of video files after the event
Set up, delivery, hosting, and strike included
Experience the Excitement of Our Video Booth Rental Services Today!
At Pic Station, we're proud to offer a highly intuitive video booth interface, and we're also excited to make your videos available for instant sharing on social media. Contact us today to learn more about our video services and how they can elevate your next event in a fresh way.
What's the pricing of your video booth rental?
It varies on the scope of work but for a typical 4 hour event pricing can range from $1500-$2750.
Why does your video booth cost so much?
Video booths are more complicated than photo booths and require additional gear and configuration. We charge commensurately to ensure a quality experience. Often times, we create customizable user interfaces which require additional back-end photoshop design, programming, and testing.  We are also proud to pay our staff well, as we believe that happy staff equals happy customers. Many rental companies who undercharge underestimate the long-term cost of running a photo booth and video booth rental business, and eventually aren't able to adequately serve their customers or just don't show up. Beware of pricing that is too good to be true! We often clean up after cheap vendors who bail on the job.
What does your video booth look like?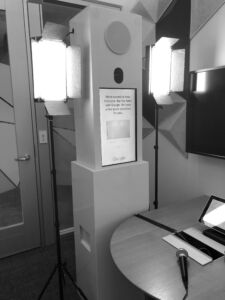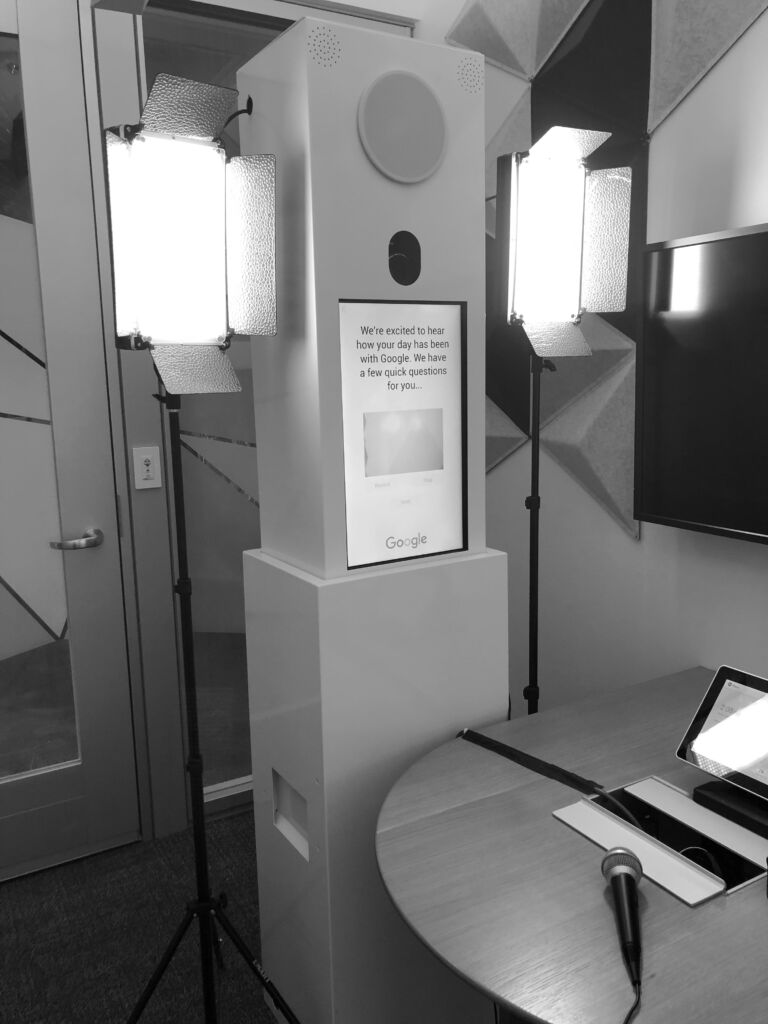 What's your payment process like?
We request a 50% deposit upon quote acceptance, and the rest before your event starts.
How does your video booth work?
We usually customize the user interface with your logos or branding, as well as your question prompts. We then have a host manning the video booth to ensure all videos are recorded correctly and guests know how to operate the kiosk. The interface is highly intuitive and easy to use. We deliver digital video files after the event is over, and for an additional charge, we can make the videos immediately available for social media sharing, although we will require a very fast on-site network to achieve this.
What types of events do you serve?
We specialize in corporate events and marketing activations where guest feedback is the goal. However, the video booth can also be used at private events as a "video confessional".
Can a video booth run as a photo booth as well?
Absolutely! Be sure to let us know that you'd like a photo + video booth in your quote inquiry.
How far in advance do I need to book?
To ensure an optimal experience, we request as much lead time as you can give us. However, we do get many last-minute requests and can almost always get the job done on a tight turn around. We thank you in advance for allowing us extra breathing room, though!